Family of Forest & Fungi
He Tukutuku Toiora
This April we published our first book, 'Family of Forest & Fungi - He Tukutuku Toiora' by Valetta Sówka, with te reo Māori translations by Hana Park and artwork by beloved children's book illustrator Isobel Te Aho-White.
The book explores the role of fungi in connection with the world around us and includes a glimpse into te ao Māori, a Māori perspective of interacting with nature.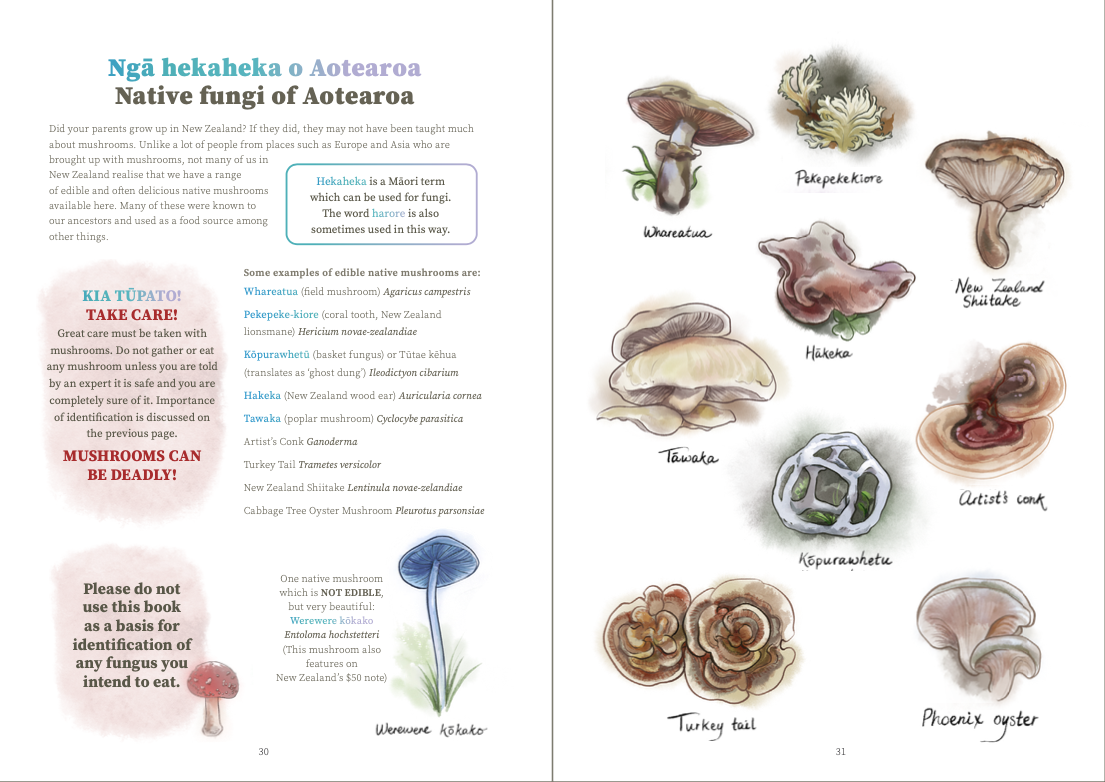 To purchase your copy
To purchase your copy of Family of Forest & Fungi please visit our online shop. We offer free shipping and post out each Monday to avoid weekend delays.
Our book is also available instore and online at the beautiful Page & Blackmore book store in Nelson.
Other stockists coming soon!
What our readers say
"This book has been a fantastic Homeschooling resource and we have included it this term as our science curriculum. It's a great book for not only education, but in bringing family together to work together." - Pyemont Family, Wakefield
"An aspect of mindfulness was created when doing the questionnaires. We loved the detailed illustrations of the pukapuka, but especially those of the fungi/mushrooms. The information was informative to all ages and not reduced to target one age group." Linda Savage, Foxton
"These resources have given us an amazing opportunity to dive right into the incredible world of, not only native fungi, but also Maori wisdom in the natural kingdom and relationships in our ecosystem." Paula Dooge, Motueka
"From the moment we opened the book, we just loved the look and feel of it. This book has beautiful energy and will be treasured by our family for a long time to come." Ramsteijn-White Family, Nelson
"We have been fungi enthusiasts for a while now but found the information and layout super engaging for both our 5 and 7 year old boys. We loved the activities and the inspiring ways to stop and and be mindful in nature. Also the fun ways to explore fungi on a more interactive level eg. spore prints, shaggy ink. It's encouraged deeper thinking about our feelings and values for natural areas and provided a real reminder to just stop and listen/feel when in nature. We loved it so much and would highly recommend to anyone with or without tamariki." Susannah Robertson, Christchurch
"The booklet is a treasure trove of stories, matauranga Māori, science and all beautifully illustrated. So many facts learned, shared and used to impress friends!" Starlight Mclean, Takaka


"The book is beautifully written and illustrated about the intricate relationship between fungi, plants, soil and other organisms in the forests. It is a great way of learning te reo and te ao Maori. I highly recommend it to any family."
- Yuki Fukuda, parent of 8 year-old
Book sales
Get in touch to find out about ordering or stocking our book