Mushroom Capsicum Sauté (Serves 2)
A delicious breakfast recipe that aims to keep the cooking time short using simple ingredients that don't overwhelm the flavour of the mushrooms.
– Recipe submitted by our valued customer, Basil Steele
Matariki Mushrooms Oyster Mushrooms
Butter or Oil
Capsicum
Egg
Salt & Pepper
Thickly slice the mushrooms and saute in butter sprinkled with salt and ground pepper.
After a couple of minutes add sliced capsicum.
Toss constantly for about five minutes on a moderate to high heat.
Turn off the pan and make a well in the center and add a knob of butter.
Add an egg and after three minutes flip it over for further minute.
Enjoy!
More Oyster Mushroom Recipes
A delicious combination of Chicken paired with Oyster Mushrooms amongst a flavour medley of poatoes, sundried tomatoes and cabbage.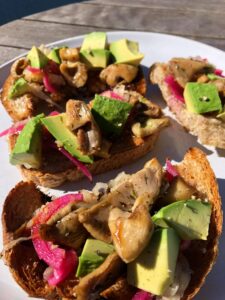 Delicious mushrooms on toast recipe for a scrumptious and healthy breakfast or snack – great for vegans!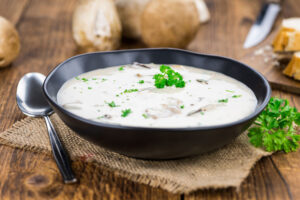 Perfect for a warming lunch or dinner on a wintery day. Serve as an entrée or main, accompanied by fresh bread.