Oyster Mushroom Cream Soup (Serves 4)
Perfect for a warming lunch or dinner on a wintery day. Serve as an entrée or main, accompanied by fresh bread.
2 Onions chopped
300g Matariki Mushrooms Oyster Mushrooms chopped
2 cloves Garlic chopped
Majoram
Oil or Butter
Salt
Pepper
2L Vegetable Stock
200ml Cream or Coconut Cream
Parsley
Method:
Fry garlic, onions and mushroom in butter/oil until evenly light brown.
Add pepper and the marjoram and fry for a few seconds until the aroma is released and then pour the vegetable stock over it.
Add salt then bring to boil and simmer for 10 minutes.
Using a blending stick or blender, blend until just smooth (not too long).
Add coconut cream.
Stir gently over a low heat until incorporated and serve straight away.
More Oyster Mushroom Recipes
A delicious breakfast recipe that aims to keep the cooking time short using simple ingredients that don't overwhelm the flavour of the mushrooms.
A delicious combination of Chicken paired with Oyster Mushrooms amongst a flavour medley of poatoes, sundried tomatoes and cabbage.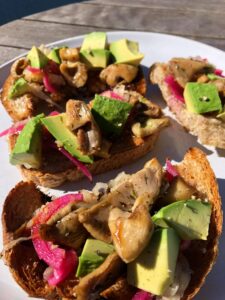 Delicious mushrooms on toast recipe for a scrumptious and healthy breakfast or snack – great for vegans!