Toscanini Chicken with Oyster Mushrooms and a Mesclun of Cabbage (Serves 4)
A delicious combination of chicken paired with oyster Mushrooms amongst a flavour medley of poatoes, sundried tomatoes and cabbage.
– Recipe submitted by our valued customer, Nathalie Eschbach
Baby potatoes
Chicken breast
Matariki Mushrooms' Native Oyster Mushrooms
Butter or oil
Sesame seeds
Curry powder
Salt & pepper
Sundried tomatoes
Green cabbage
Elephant (or regular) garlic
Fresh parsley & paprika to serve
Method:

Steam small potatoes
In a pan cook slices of chicken breast with a little bit of butter. Add seasoning (sesame seeds, curry powder, salt, pepper).
Add sundried tomatoes and the cooked potatoes.
Cover and reduce heat to let all flavours blend together.
In a pot with a little bit of butter add chopped oyster mushrooms, roughly cut green cabbage leaves and crushed elephant garlic.
Add salt and pepper, cover and cook slowly.
Serve both chicken toscanini preparation with the mesclun of cabbage and oyster mushrooms.
Sprinkle with fresh parsley and some paprika.
Bon appétit !
More Oyster Mushroom Recipes
A delicious breakfast recipe that aims to keep the cooking time short using simple ingredients that don't overwhelm the flavour of the mushrooms.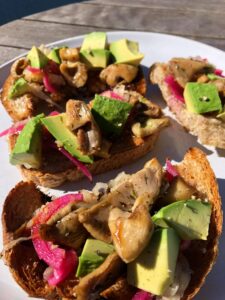 Delicious mushrooms on toast recipe for a scrumptious and healthy breakfast or snack – great for vegans!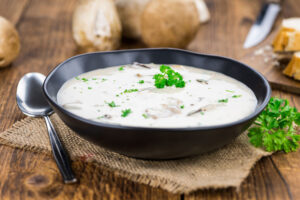 Perfect for a warming lunch or dinner on a wintery day. Serve as an entrée or main, accompanied by fresh bread.