Seared Oyster Mushrooms on Toast (Serves 2)
Delicious mushrooms on toast recipe for a scrumptious and healthy breakfast or snack – great for vegans!
– Recipe submitted by our valued customer, Melissa Spratt
Mushrooms
Sourdough or Home-made bread
Matariki Mushrooms Oyster mushrooms
Chilli flakes
Olive oil
Tamari sauce 1-2tsp.
Thyme
Generous pinch Himalayan salt
Good dose of Pepper
Toppings for Toast
Olive oil
Vegemite (optional)
Diced Avocado
Pickled red onions
Sauerkraut
Nutritional yeast
Tabasco sauce
Seared mushrooms
Lemon juice (optional)
Himalayan salt and pepper to taste
Method:
Cut Oyster Mushrooms into bite size pieces.
Heat olive oil until pan is hot.
Throw mushrooms in with thyme, Himalayan salt, pepper and chilli flakes add a splash of tamari sauce to lightly coat the mushrooms.
Swish the mushrooms around in the tamari, oil and spices so they are evenly coated and then let them sear on med-high for 5 -7 mins before shuffling them around in the pan again.
After 5-7 mins flip them over and then let them sit again to sear more.
Prepare your toast with a drizzle of olive oil and a thin coat of vegemite (if that's your thing)
Layer the toast in the order of ingredients you prefer, mushrooms included!
Top off with Tobasco, lemon juice or your preferred sauce! You could even decorate it with toasted pumpkin and sunflower seeds if you're feeling extra adventurous.
Marvel at the colourful flavour explosion about to occur in your mouth. Enjoy!
More Oyster Mushroom Recipes
A delicious breakfast recipe that aims to keep the cooking time short using simple ingredients that don't overwhelm the flavour of the mushrooms.
A delicious combination of Chicken paired with Oyster Mushrooms amongst a flavour medley of poatoes, sundried tomatoes and cabbage.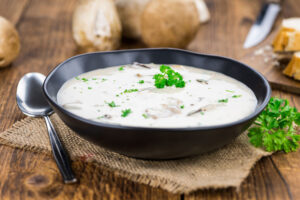 Perfect for a warming lunch or dinner on a wintery day. Serve as an entrée or main, accompanied by fresh bread.