Oyster Mushroom Breakfast (Serves 4)
This hearty and filling breakfast can be served on its own, or with accompanying sides for a morning feast! Delicious with fresh bread and butter!
200g Matariki Mushrooms Oyster Mushrooms sliced
1 Onion sliced into rings
Olive Oil / Butter
Salt
Black Pepper
Handful of Parsley finely chopped
3 Eggs
Method:
Heat butter or oil in a large pan over a medium heat. Sauté onions until clear.
Add sliced oyster mushrooms and stir occasionally until they are brown on both sides. Crack pepper into the pan and let its aromas dissolve in the heat before you add the egg and stir it in. Fry for a few minutes till the egg has reached the texture of your liking. Add salt and sprinkle chopped parsley.
More Oyster Mushroom Recipes
A delicious breakfast recipe that aims to keep the cooking time short using simple ingredients that don't overwhelm the flavour of the mushrooms.
A delicious combination of Chicken paired with Oyster Mushrooms amongst a flavour medley of poatoes, sundried tomatoes and cabbage.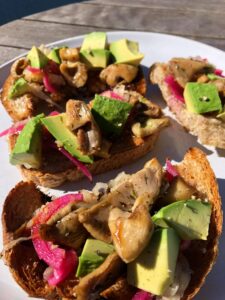 Delicious mushrooms on toast recipe for a scrumptious and healthy breakfast or snack – great for vegans!