Oyster Mushroom Pasta Recipe (Serves 4)
A simple and quick pasta dish, rich with mushroom flavour.
200g Matariki Mushrooms Oyster Mushrooms
500g Pasta of choice
Olive Oil for cooking
2 Garlic cloves
1 large Courgette
2 Bell pepper
1 Spring Onion
Method:
Cook your pasta in a separate pot, until 'al dente'.
In a large pan, chop and sauté the remaining ingredients, tossing in the oil until just cooked.
Mingle with the pasta and serve, seasoned to taste!
More Oyster Mushroom Recipes
A delicious breakfast recipe that aims to keep the cooking time short using simple ingredients that don't overwhelm the flavour of the mushrooms.
A delicious combination of Chicken paired with Oyster Mushrooms amongst a flavour medley of poatoes, sundried tomatoes and cabbage.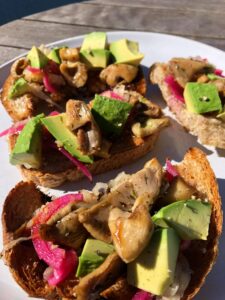 Delicious mushrooms on toast recipe for a scrumptious and healthy breakfast or snack – great for vegans!